Heidrun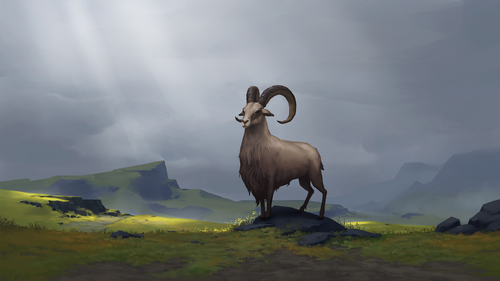 The Clan of the Goat. When it comes to surviving in the dangerous conditions and building sturdy settlements, the Clan of the Goat has no rival. They will endure the harshest of winters and even prosper. Self-sufficient survivalists, they work hard to make the most of every inch of their territory. Adaptable and resilient, they will be right at home on Northgard.
The biggest advantage lies in the unrivaled ability to prosper with only little space available. Enhancing any areas with cheap extra building space and buildings that are able to occupy an extra worker can create by far the strongest economy among all the clans. Further enhanced by the option to trade away excess

Food for massive

Kröwns income.
Start with 1 Sheep and can build two Sheepfolds.
Increases the production bonus of your feasts by 20%.
Allows to build an additional sheepfold. Obtain two free sheep.
Sheepfold production is increased by 10%.
500 Fame : Team Work
Your Defense Towers and all your Military units gain 20% resistance when feasting.
You gain one free Feast per year.
Gefjun's Jar : Allows you to spend

Food to summon new Villagers or Sheep and build another Sheepfold. Required

Happiness for your population is reduced by 10%.
In the story campaign, Heidrun clan are led by an elderly bannerman named Halvard. A wise and kind-hearted man, he focused on the survival of his people. He abhors senseless violence, but not against resorting to it when provoked. He seemed to be knowledgeable, as he familiar with mystical creatures he and his allies encountered at Northgard which mostly believed to be either myth or rare.